Blue Forests have a specific and special approach to use on our daily basis activity. This approach help us to get closer to achieve our vision.  It has 6 steps of approach as it explains bellow:
Socio-Economic-Ecological System (SEES) – an integrated system of human society, businesses and livelihoods, and the mangrove ecosystem. By seeing the system from social, economic and ecological aspects, there is less risk of over-simplifying management options. Parameters in a SEES system are understood to be interdependent, with reciprocating feedback mechanisms. The concept emphasizes the 'humans-in-nature' perspective.
Adaptive capacity/Adaptability – the capacity to adapt and to shape change. In a mangrove system, one of the keys to adaptation is biodiversity. A mangrove forest with a full complement of tree species will be able to colonize newly available substrates more successfully than a monospecific stand. In the age of sea-level rise, and climate change, the ability to adapt to changes in the coastal landscape may be greater than ever.
In a social-ecological system, adaptability amounts to the capacity of humans to manage resilience. Again, diversity, and even redundance may be an important attribute. If community members, both poor and rich, as well as other external stakeholders, all care about a mangrove system, it may become harder for an individual actor to affect change, such as an investor wishing to convert an area for development.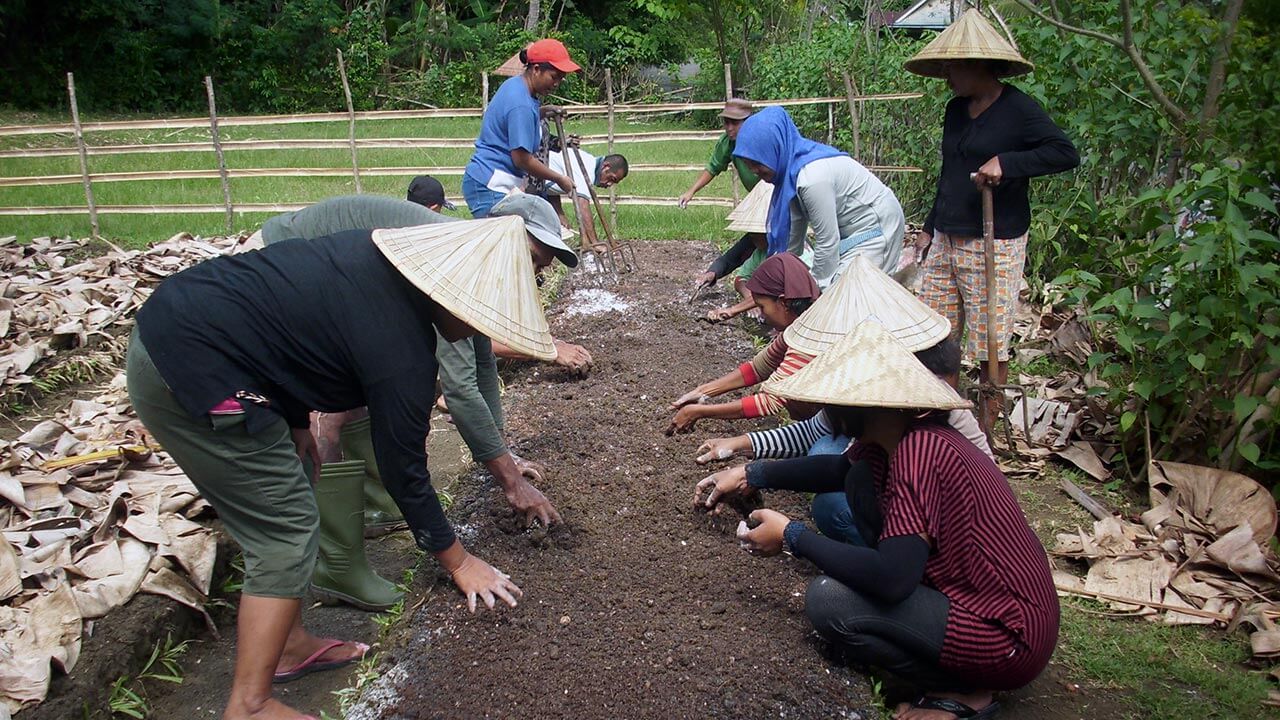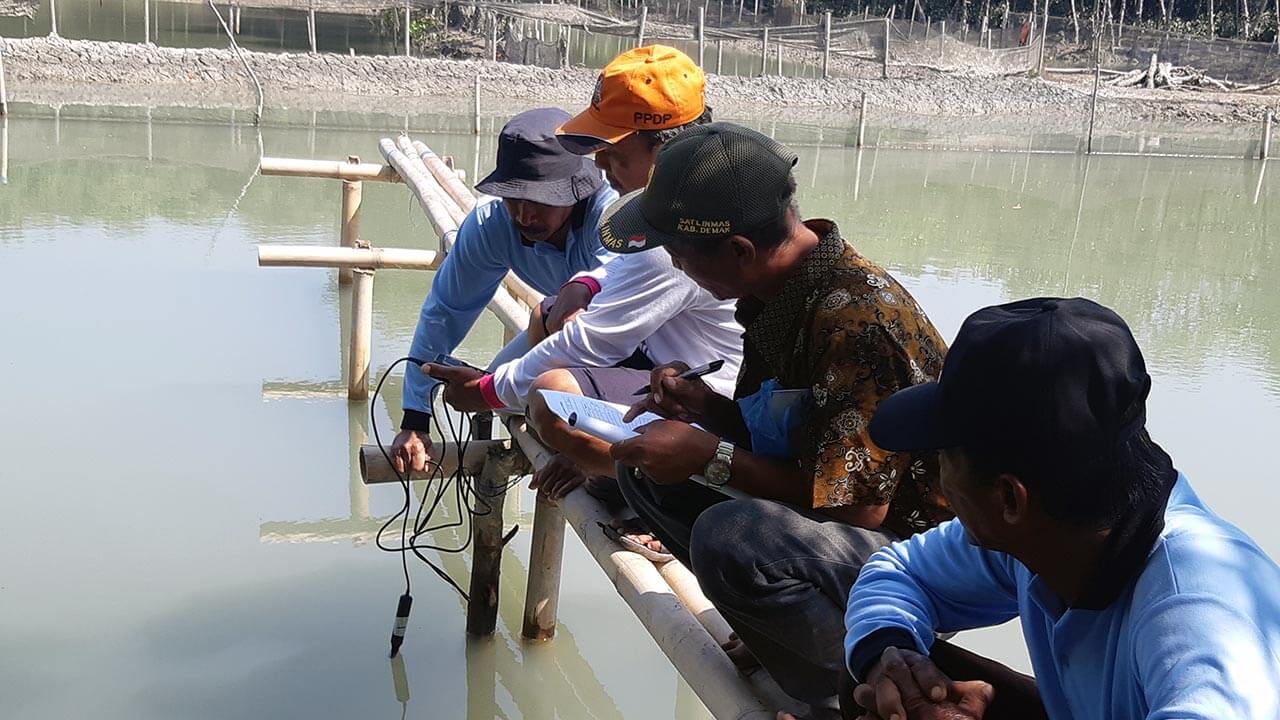 Mangrove forests world-wide can undergo self-repair over a period of decades as long as; 
their hydrological regime remains undisturbed and 

propagules of colonizing species are available to achieve natural secondary succession. 
Where one or both of these conditions are not met, human intervention may be required. This is known as mangrove rehabilitation.
Because mangrove forests can recover without planting, people should first consider addressing hydrological disturbances to the natural flooding and drainage of tidal waters before considering planting mangroves. Unfortunately, most mangrove rehabilitation projects world-wide attempt to plant mangroves right away, raising mangrove seedlings in nurseries and planting  in mud flats before disturbance factors are assessed. It has been reported that 90-99% of mangrove planting efforts fail to rehabilitate mangrove forests.
In order to improve upon poor and unnecessary practice, Lewis III and Marshall (1997) developed the following five steps to achieve successful mangrove restoration;
Understand the autecology (individual species ecology) of all original mangrove species at the rehabilitation site; in particular the patterns of reproduction, propagule (mangrove fruits, seeds and embryos) distribution, and successful seedling establishment. 

Understand the normal hydrologic patterns that control the distribution and successful establishment and growth of targeted mangrove species.

Assess modifications of the original mangrove environment that currently prevent natural secondary succession.

Design the rehabilitation program to restore appropriate hydrology and, if possible, utilize natural volunteer mangrove propagule recruitment for plant establishment.

Only utilize actual planting of propagules, collected seedlings, or cultivated seedlings after determining (through steps 1-4) that natural recruitment will not provide the quantity of successfully established seedlings, rate of stabilization, or rate of growth of saplings established as objectives for the restoration project.
These five steps serve as a process of biophysical assessment, planning and implementation of what has become known amongst practitioners as ecological mangrove restoration or rehabilitation (EMR).
It is also important to know that most mangrove rehabilitation efforts fail because of social factors.  In other words, humans do not genuinely want to put mangroves back where they belong, usually due to competing land use, or privatized, individual economic gains. Much more attention needs to be paid to resolving social and economic issues before mangrove rehabilitation can succeed.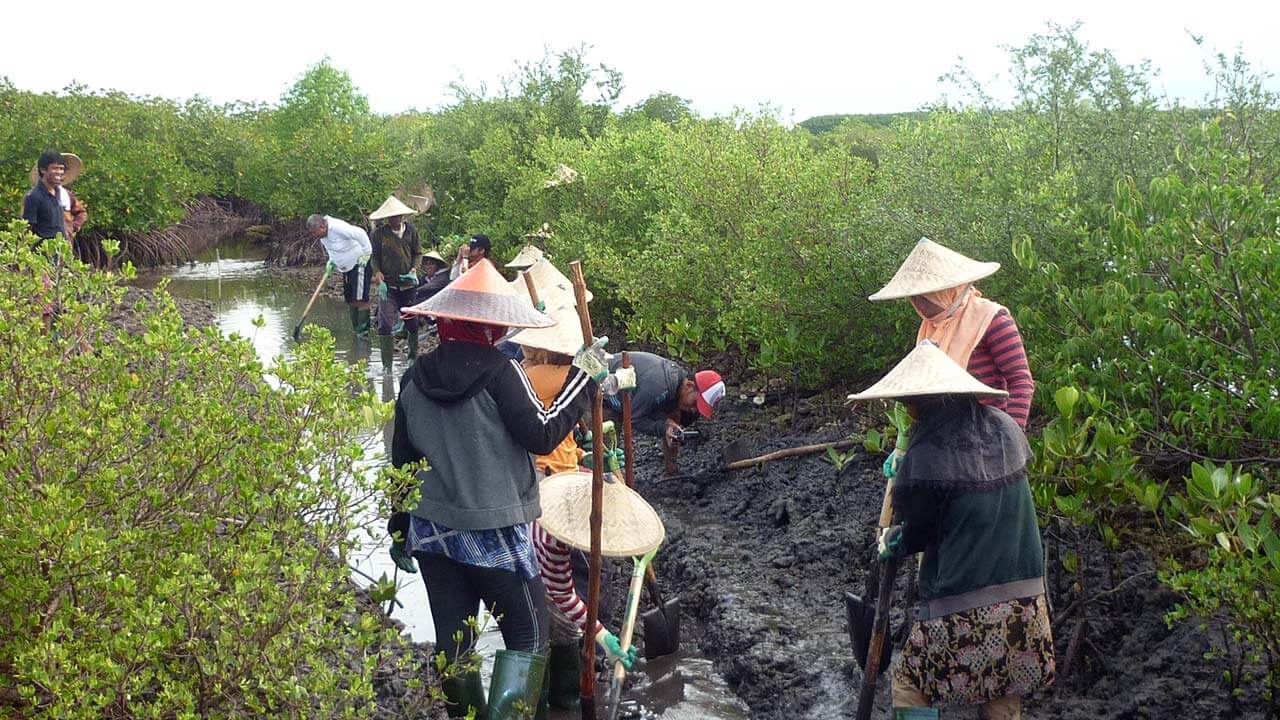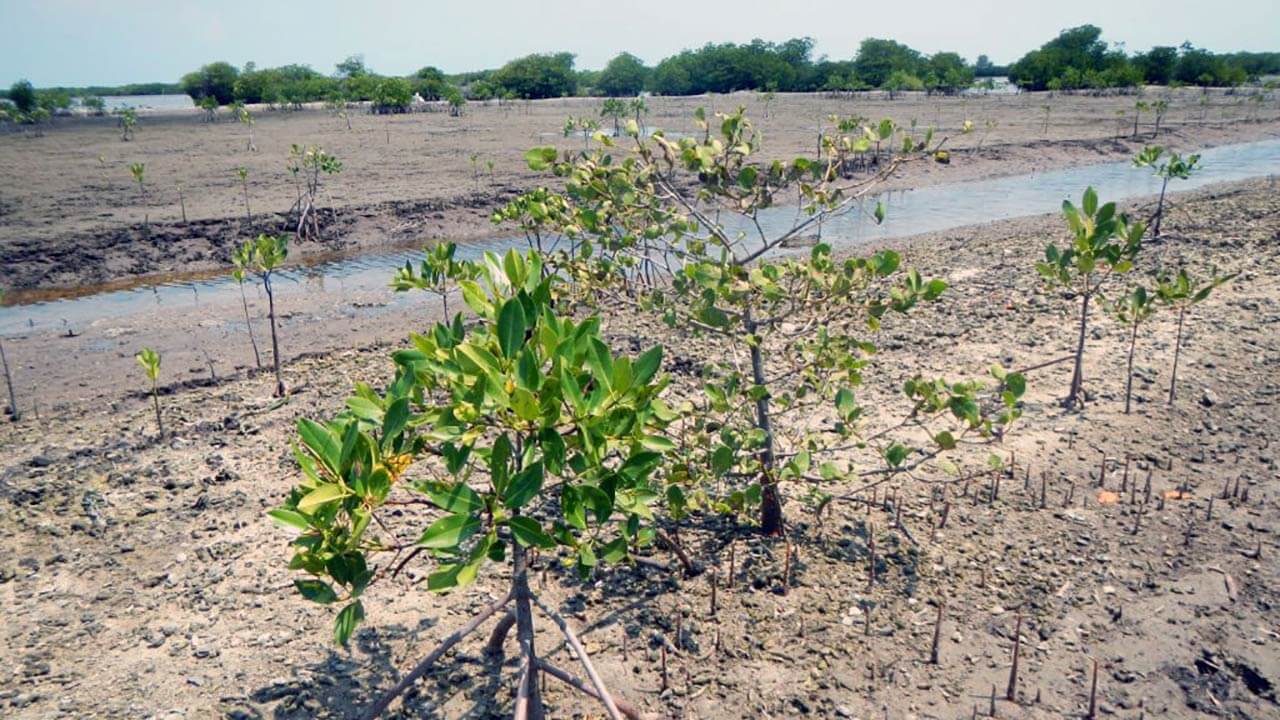 Our work combines aspects of fieldwork focusing on the health and use of mangrove ecosystems, with a community problem solving approach that follows the three steps noted above. The model is based on research into how people organize ideas (cognitive-mapping), how people solve problems, and how educators can use this information to make education more relevant and meaningful. Ultimate success is measured by the change in values of the target group, improved health of the mangrove ecosystem and a coincident improvement in the quality of coastal peoples' lives.
The process followed in taking effective action has been influenced by environmental educators seeking effective means to educate and empower people about their environment, and by educational researchers interested in problem solving strategies within educational contexts. The educator John Dewey was an early advocate of reflective thinking, and believed that thoughts cannot be separated from action (Dewey, 1963). He thought that schools should involve students in the real world to make education more meaningful.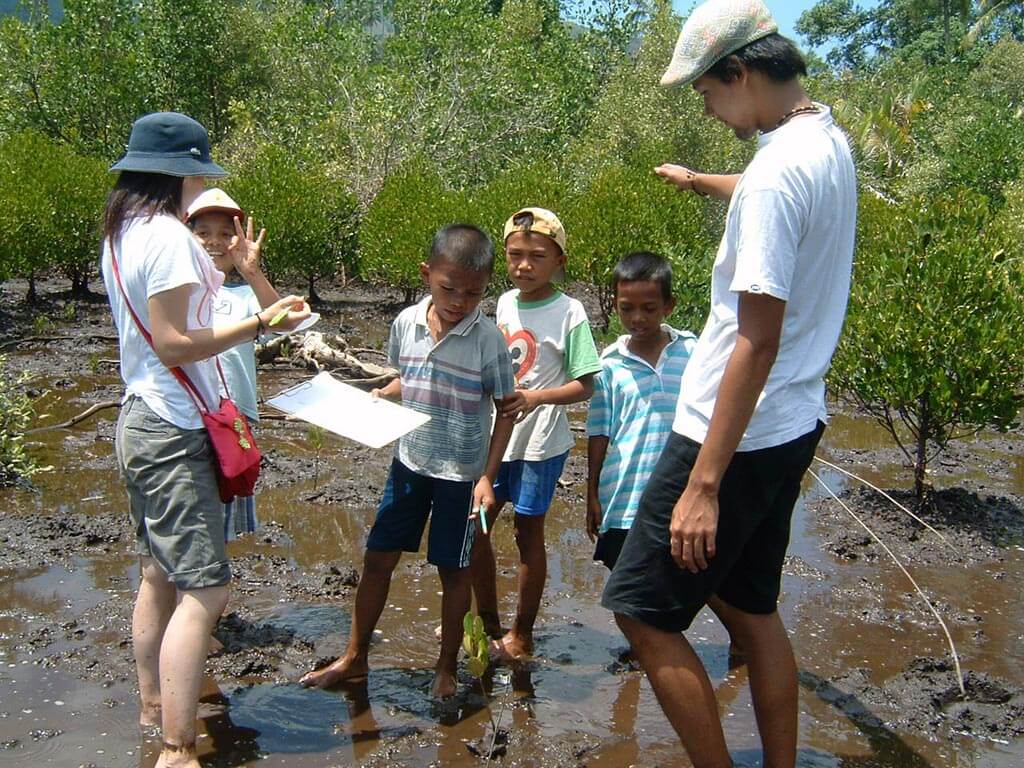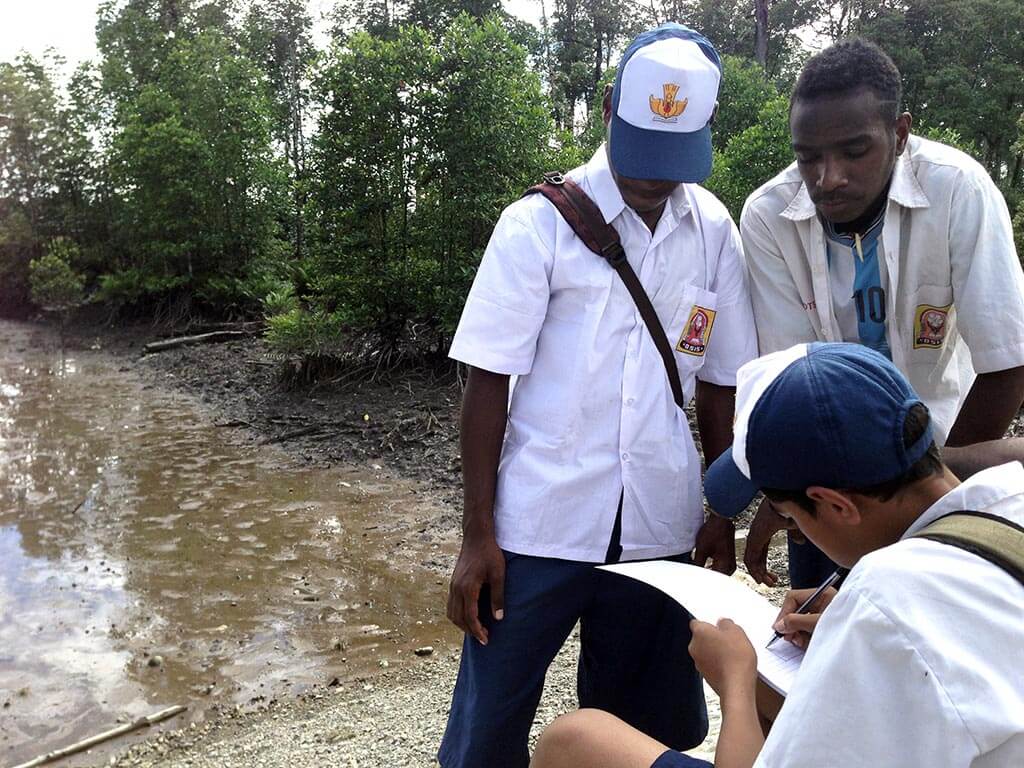 Resilience thinking is used in encouraging life in society. Blue Forests recognizes that livelihood must be based on potential, carrying capacity and the ability to adapt to change. Also, ensure that balance, equality and fairness can be fulfilled. Blue Forests believes that the diversity of livelihoods and livelihood choices in the community can encourage a more resilience system.
This principle that drives livelihood development at the site level is approached through participatory action research. The form is a method of learning through Coastal Field School.
Blue Forests uses a pair of programs – Coastal Field School and Coastal Business School, to develop sustainable livelihoods.  Coastal Field Schools are based on the Farmer Field School philosophy (see: communityipm.org) geared towards developing critical thinking skills around current livelihoods practices.  To date, 12 types of Coastal Field Schools have been run around the improved management of specific coastal commodities:
Fish Farmer Field School

Salt Water Tolerant Rice

Biointensive Vegetables

Carageenan seaweed

Coastal bamboo

Improved charcoal making

Mangrove silvaculture

Mangrove rehabilitation

Mangrove non-timber forest products

Mudcrab fattening

Coastal compost production

Sorghum
Coastal Business Schools are a new program at Blue Forests; where the selected Coastal Field School Alumni develop their business and entrepreneurship skills through a series of activities including; Market Analysis, Quality Assurance, Business Plan Development, Product Development, Packaging, Marketing, Book-keeping and Accessing External Support.
Blue Forests works with Charles Darwin University to monitor and evaluate the impact of its livelihoods program, using Sustainable Livelihood Framework, Well-being Matrix and the  Women's Empowerment in Agriculture Index (WEAI).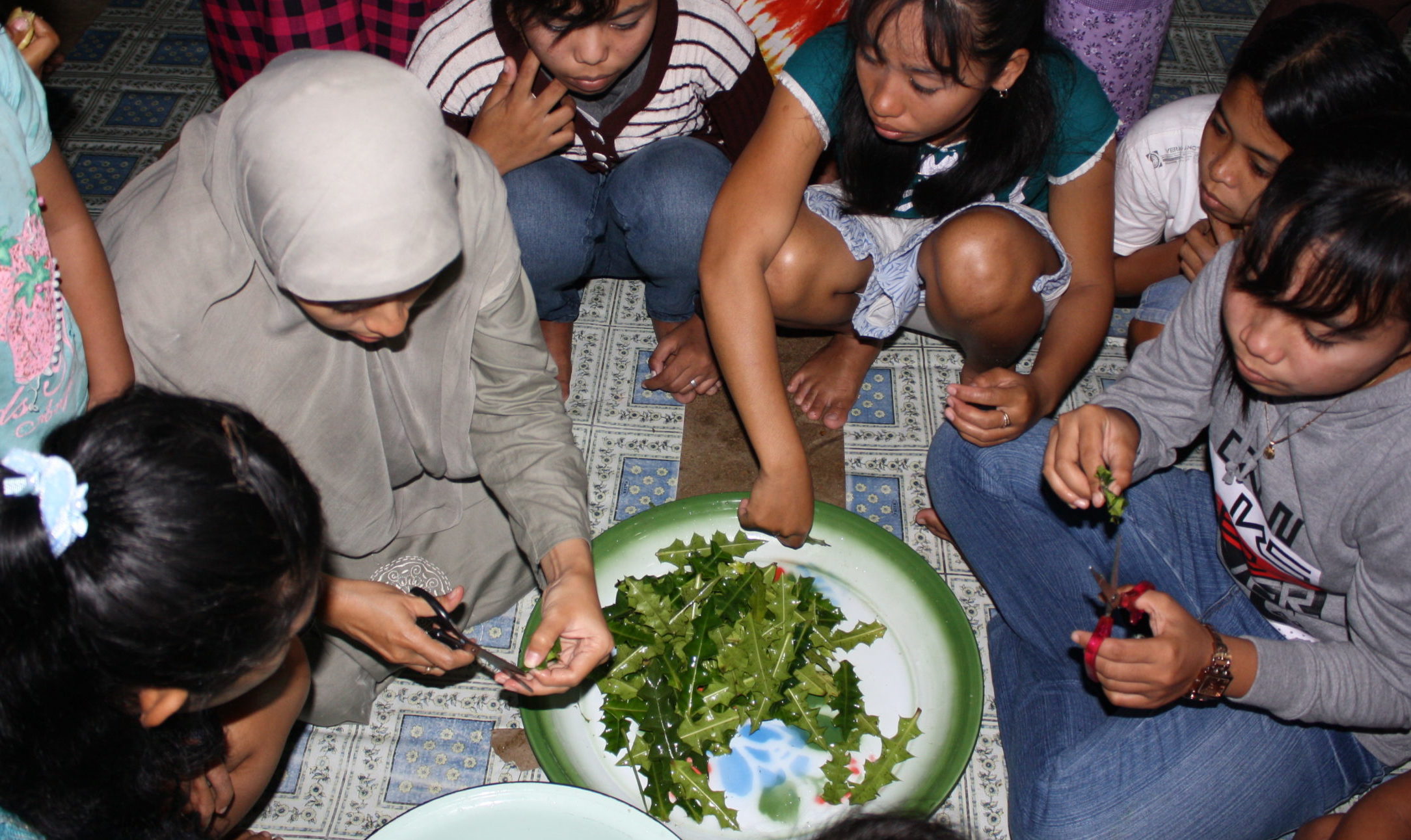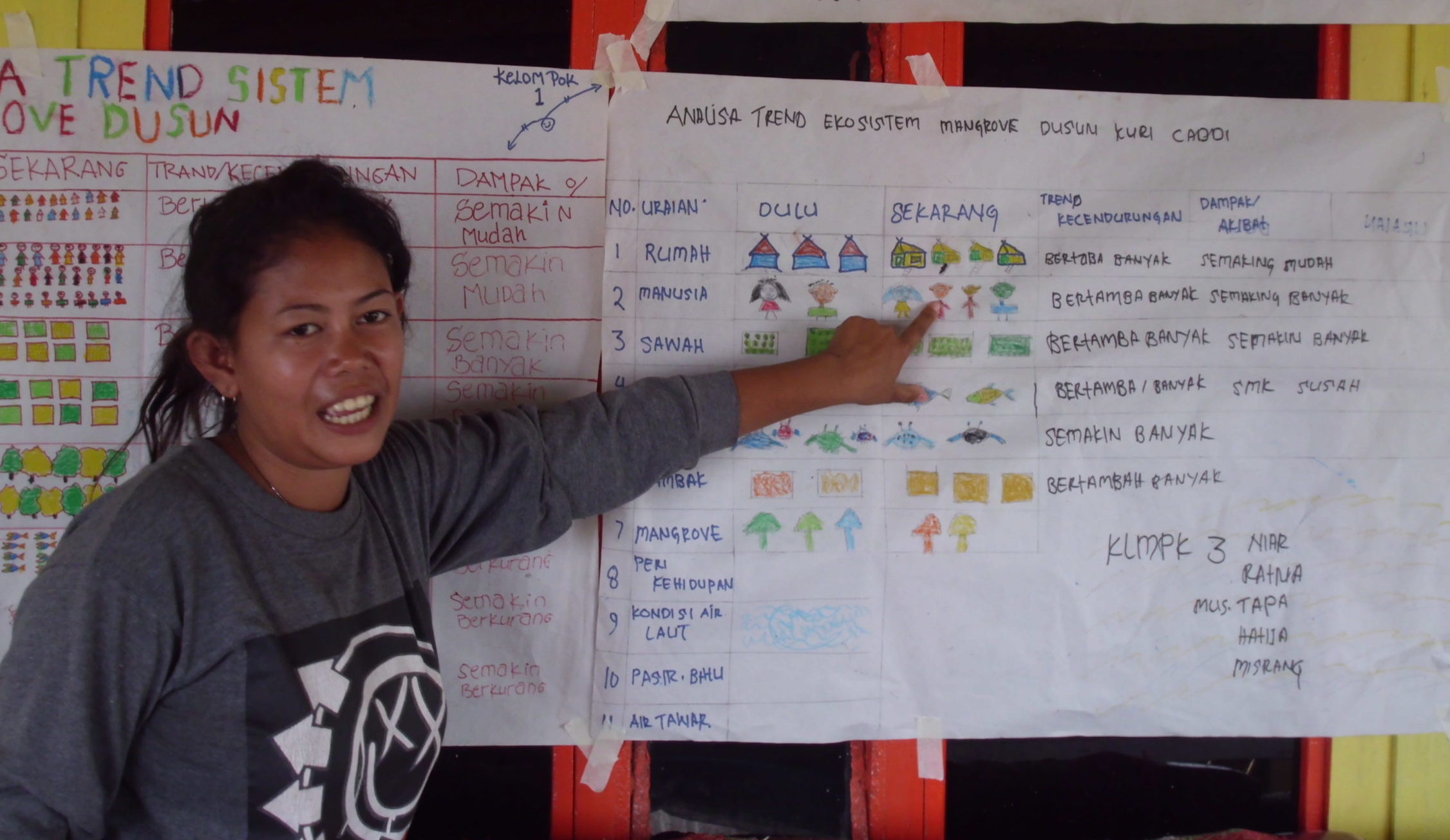 Information AND LEARNING center development
The dialogue process and discussion between communities are essential in the village. By frequently meeting and exchanging ideas, people can learn from each other. They can also share ideas, concerns, and hopes. That is the essential foundation to build a shared vision and goals. This is usually the first step in moving and working together to achieve goals.
Blue Forests facilitates the information and activity center development process in some assisted areas. This facility is very useful for focusing on conservation, rehabilitation, and community empowerment efforts in the village. It can be used to organize environmental education programs, field schools, workshops on community-based coastal resource management, sustainable livelihood improvement, public health programs, long-term scientific and participatory action research, and other relevant activities.
Blue Forests advocacy framework is catalyzing partnership and collaboration between all actors in the system for the sustainable management of the watershed and coastal area. Enable the stakeholders' improvement of knowledge, attitude, and practice. Actively working on influencing, inspiring, and involving all parties together to take action. Blue Forests combines a bottom-up and top-down approach. Learn with the community to strengthen the capacity and critical thinking. Change the other stakeholders' technocratic patterns to be willing to pick up the aspirations of the community. Bringing them together in the middle to spark synergy and cooperation in an equal collaborative space.  
Blue Forests processes information and knowledge from the learning process with the community. Reflecting on broader horizons and global knowledge. We will then adjust the knowledge to be used as problem-solving tools at the community level. 
Knowledge and smart practice are born from local to global to local processes. So that it is expected to inspire, easily replicated and adapted to the appropriate local conditions.